BAYONNE'S PREMIER COSMETIC DENTIST TEAM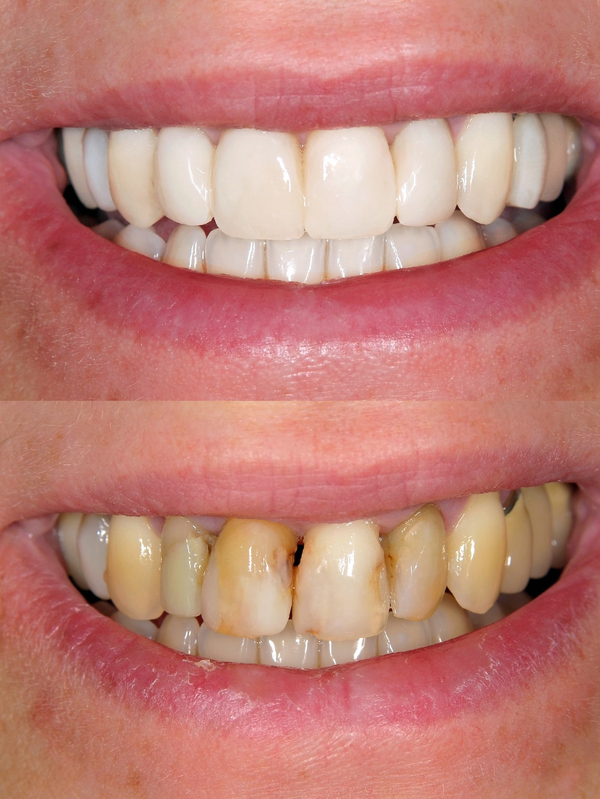 Dental veneers, also referred as dental laminates, are made of a layer of material that gets placed over a tooth to recreate the natural look of teeth and to also provide strength and toughness similar to natural tooth enamel. Porcelain veneers are often wafer-thin shells of tooth-colored materials that comprise several thin ceramic layers and an adhesive, and these are designed to cover front surface of teeth and improve appearances.
In dental veneers, the two types of materials used to fabricate them are:
Composite
Dental porcelain
The materials are used to create a bond with both the enamel and the porcelain. It is often the choice of material for those who want to make slight position alterations or change the color, gum recession, shape, or size of the tooth.
It's important to communicate with your dentist to determine the right option for you or to find out if there are any alternative solutions available. Once this is done, you can then identify the cosmetic improvements you want to get. Your dentist most likely will begin with a smile analysis to determine the necessary steps to achieve the smile you desire. A restoration of your tooth will cover the full coronal tooth surfaces.
A recently suggested classification of veneers is known as Nankali Veneers Classification, which divides veneers as follows:
Labial surface coverage with no incisal involvement or incisal overlap
Interproximal preparations, Some of the methods of production include indirect veneers and direct veneers.
Materials include ceramic, Lumineer, da Vinci (thin porcelain), and MAC (high resistance to stains and relatively very strong acrylic and composite.
The way porcelain veneers are attached to teeth is via materials that are used to create a bond with both enamel and porcelain.
Your Porcelain Veneer Team
Our patient-focused care is a direct product of having caring, experienced dentists.
Due to the doctors vast experience and commitment to continuing education, Beautiful Smiles of Bayonne is your one stop shop for all your porcelain veneers needs. The teams know-how and commitment mean you get great dentistry plus an experience you'll appreciate.