DENTAL FILLINGS
BAYONNE'S PREMIER COSMETIC DENTIST TEAM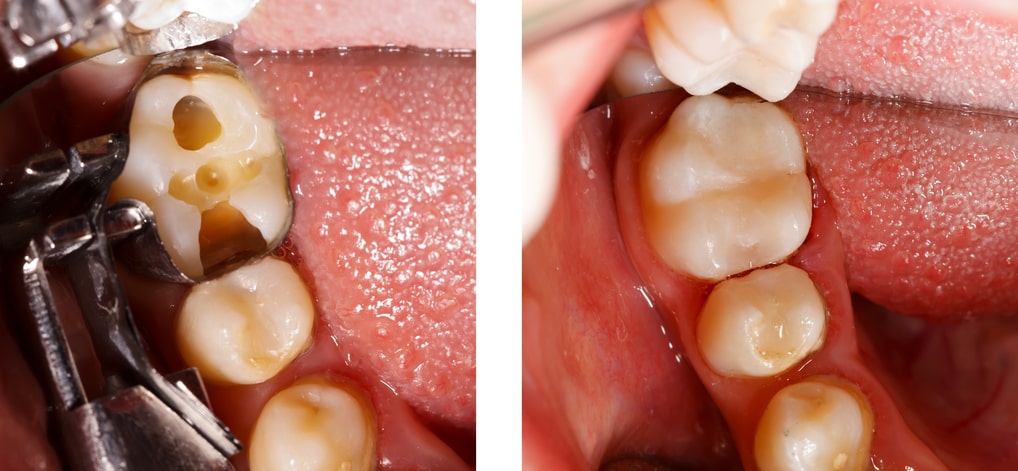 At Beautiful Smiles of Bayonne, we treat cavities and tooth decay with dental fillings.  Without treatment, tooth decay will become worse, leading to nerve damage and possibly root canals or other invasive procedures.  Dental fillings are also called restoration, because they restore the decayed tooth, and are also used with broken or chipped teeth as well.
THE DENTAL FILLING PROCESS
When you come in for a filling, we begin by numbing the gums and jaw around your tooth with local anesthesia.  In a few minutes, the area will become numb, so that you will not notice any pain at all during the procedure. Then we take out the damaged part of the tooth with a drill and make sure it is all cleaned out.  After cleaning, we fill the tooth with a non-metal material, usually composite or porcelain, which is less expensive than gold or silver, and it will match the color of your teeth. The old gold and silver methods can also be damaging to your teeth and health, because these metals can contain toxins such as mercury.  They can also cause fractures and discolorations of your natural tooth color.
With composite fillings, we apply the layers of material to completely fill the cavity.  Then we mold the area around the tooth to regain the correct shape. Next we use an ultraviolet light to harden the material quickly and safely.  The final step is polishing the tooth, which makes it feel healthy and natural again! The entire process usually takes about an hour.
If the damage is worse, you may need an indirect filling.  This type of filling happens when there is not enough tooth structure remaining for a filling, but the tooth is not so severely damaged that it needs a crown.  An indirect filling is similar to the procedure above, except that it is made in our dental laboratory and may require an additional visit before being placed.  We will take impressions of your teeth and have the filling made in our lab, so that it will be a perfect fit.
Your Dental Team
Our patient-focused care is a direct product of having caring, experienced dentists.
Due to the doctors vast experience and commitment to continuing education, Beautiful Smiles of Bayonne is your one stop shop for all your dental filling needs. The teams know-how and commitment mean you get great dentistry plus an experience you'll appreciate.